Brazil Labour Minister Carlos Lupi is latest to resign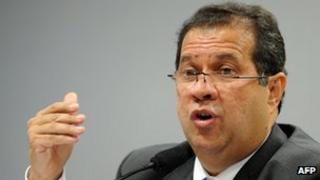 Brazil's Labour Minister, Carlos Lupi, has handed in his resignation to President Dilma Rousseff.
He is the seventh minister to resign since President Rousseff took office in January. Six departed amid scandals over alleged corruption.
Most had been members of the previous government of President Luiz Inacio Lula da Silva.
In a statement, Mr Lupi said he had been subject to personal and political persecution by the media.
But he said he had a clear conscience and he would be proved innocent.
He was being investigated after a Brazilian news magazine Veja reported in November that Mr Lupi and some of his aides had allegedly demanded kickbacks from charities and non-governmental organisations in exchange for funding from the ministry.
The Folha de Sao Paulo newspaper also reported that he was being investigated for allegedly receiving a salary as a federal congressional employee, while at the same time serving in, and receiving a salary from, the state legislature of Rio de Janeiro.
Receiving two government salaries is illegal under Brazilian law.
'Tainted'
Some members of congress from Mr Lupi's own party, the PDT, had requested an investigation into the allegations.
But pressure on Mr Lupi to resign increased dramatically on Wednesday after a presidential ethics committee recommended that he should be sacked for gross mismanagement.
Opposition groups have previously said that the resignations under President Rousseff show that her government is tainted by corruption.
But the government insists corruption has always existed in Brazil - the difference now is that cases are being made public and action is being taken.
The resignations have strained Ms Rousseff's governing coalition, which is made up of more than a dozen parties.