White House demands Cuba free US contractor Alan Gross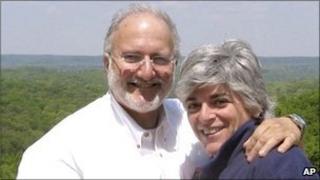 The US government has called for the release of Alan Gross, an American who is serving 15 years in a Cuban jail for taking internet equipment onto the Communist-run island.
White House Press Secretary Jay Carney said Mr Gross, arrested exactly two years ago, should be freed immediately.
Mr Carney said the Cuban authorities "had failed in their effort to use Mr Gross as a pawn for their own ends".
Cuba's refusal to free him has led to frozen relations with the US.
Mr Gross was arrested on 3 December 2009 for "acts against the independence and integrity of the state".
He said he was just trying to help Cuba's Jewish community by giving them laptops and communications equipment, and never intended to harm the Cuban government.
But at an appeal hearing, the Cuban Supreme Court ruled he was part of a US government programme aimed at destabilising and subverting Cuba's Communist system.
Deteriorating health
On the eve of the second anniversary of his arrest, State Department Spokesman Mark Toner appealed for his release.
"Mr Gross is a 62-year old husband, father, and dedicated professional with a long history of providing assistance and support to underserved communities in more than 50 countries," he said.
A senior American religious leader travelled to Cuba this week to meet President Raul Castro in an attempt to convince him to free Mr Gross.
National Council of Churches General Secretary Michael Kinnamon was allowed to see Mr Gross briefly.
He said he had lost weight during his imprisonment in a military hospital in Havana.
Mr Kinnamon's concern was echoed in a letter signed by 19 US senators sent to the Head of the Cuban interest section in Washington, Jorge Bolano, on Thursday.
"Mr Gross has lost 100 pounds (45kg) and suffers from numerous medical conditions," they wrote.
Mr Kinnamon said Cuban President Raul Castro had expressed concern over Mr Gross's health, but had not given any indication of progress toward resolving the case.
The BBC's Michael Voss in Havana says the case has brought US-Cuba relations to a standstill.