Uruguay identifies military torture victim Julio Castro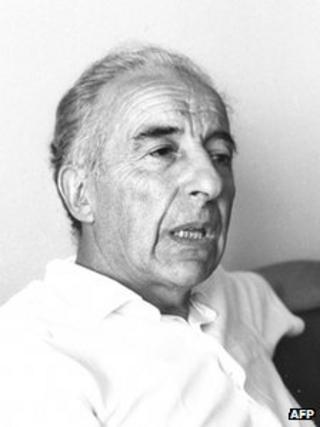 Officials in Uruguay say they have identified a corpse discovered at a military base in October.
It is that of Julio Castro, a trade union activist who disappeared in 1977.
A commission investigating crimes committed under military rule in Uruguay said Mr Castro died after two days of interrogation and torture at a clandestine interrogation centre.
An estimated 7,000 political prisoners were held during military rule from 1975 to 1983; some 200 were killed.
The body was found at an army base on the outskirts of the capital, Montevideo on 21 October.
A team of forensic archaeologists had been searching the site for traces of people who had disappeared during Uruguay's military rule.
Divisive past
DNA tests revealed the remains were those of Mr Castro, a teacher and one of the founders of the Frente Amplio (Broad Front), a left-wing coalition of political parties.
Mr Castro was a vocal campaigner for human rights and social equality.
He was detained by the military government on 1 August 1977 and according to testimony given by a fellow detainee, held at a clandestine detention centre.
A commission set up to investigate crimes committed under military rule determined that Mr Castro died on 3 August 1977 as a result of the ill-treatment and torture he had suffered in captivity.
Military rule and the crimes committed under it remain a highly divisive issue in Uruguayan society.
In October, Congress voted to revoke an amnesty law which protected officers from prosecution for crimes committed between 1975 and 1983.
The heated debate which preceded the vote lasted for 12 hours.