Guyana awaits election result amid signs of tight race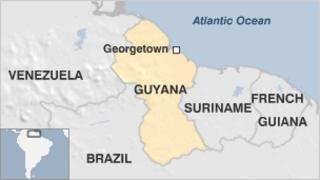 Early results from Guyana's election indicate a close race between the main political parties.
Initial results put the governing People's Progressive Party on some 70,0000 votes while a coalition including its long-standing rival, the People's National Congress, had 65,000.
Since independence from Britain in 1966, Guyana's politics have been largely split along ethnic lines.
The PPP/C is bidding for a fifth straight victory.
It urged the electoral authorities to release preliminary results without delay.
However, members of the electoral commission insist they must wait until they have hard copies of the count before declaring the result of Monday's vote.
"Telephone results coming in from the various polling stations all over Guyana is not something that we can accept," said commission head Dr Steve Surujbally.
International election observers, who have been monitoring both the vote and the count, urged patience on all sides.
Guyana has a parliamentary system, under which the majority party's candidate assumes the presidency.
The PPP/C is backed mainly by the Indo-Guyanese community.
The main challenger is A Partnership for National Unity (APNU), which groups the People's National Congress (PNC) with several smaller parties and is supported largely by Afro-Guyanese voters.
Violent clashes have erupted in the past between the two groups.
Post-election violence continued for weeks after presidential polls in 2001 when the current incumbent, Bharrat Jagdeo, was declared the winner.