Latin America poverty level lowest in 20 years, says UN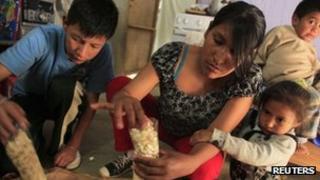 Poverty in Latin America is at its lowest level for 20 years, the UN's regional economic body, Eclac, says.
From 1990 to 2010, the rate fell from 48.4% to 31.4%, which means 177 million people currently live in poverty.
Eclac says the main reason for the reduction in poverty and inequality is the rise in household incomes.
But progress is hindered by the big gaps between productive and better paid sectors and work that is poorly paid and of low productivity, Eclac says.
"Poverty and inequality continue to decline in the region, which is good news, particularly in the midst of an international economic crisis," said Alicia Barcena, Eclac's executive secretary.
"However, this progress is threatened by the yawning gaps in the productive structure in the region and by the labour markets which generate employment in low-productivity sectors."
According to Eclac's report, Social Panorama of Latin America 2011, the rate of extreme poverty or indigence also fell from 22.6% to 12.3%.
The body forecasts that by the end of the year, 174 million people will be classed as living in poverty.
However, a rise in food price is set to see the indigence rate increase slightly to 12.8%.
Caribbean challenge
Among the countries that saw the biggest drops in poverty are Peru, Ecuador, Argentina, Uruguay and Colombia.
Poverty increased only in Honduras and Mexico.
Eclac welcome the increase in social spending by governments but said more was needed to achieve a more balanced distribution of income.
Eclac's report for the first time includes a chapter devoted to the Caribbean.
Among the major risks it notes are high unemployment and HIV rates among young people.
The reports notes that the HIV rate, equating to 1% of the total population, is the second-highest in the world, surpassed only by sub-Saharan Africa.