Protests in Peru halt Newmont gold mine project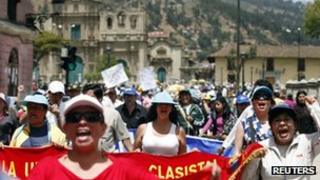 US company Newmont which is planning a huge open-cast gold mine in northern Peru says it is halting construction after days of protests.
At least 10 people were injured on Tuesday at the site in the high Andes.
Critics say the $4.8bn (£3.1bn) mining project will cause pollution and destroy water supplies.
The Denver-based mining giant has promised to resume dialogue with local residents and the government in an effort to reach a compromise.
Newmont, based in Denver, Colorado, is the majority owner of the Conga project, which was to begin production in 2015 and is an extension of Yanacocha, Latin America's biggest gold mine.
"For the sake of re-establishing tranquillity and social peace in Cajamarca (region), it has been decided to suspend the project's activities," said a statement from the Yanacocha mine, operated by Newmont and its local partner Buenaventura.
Reservoirs
The Conga project, located some 3,700 m (12,140 feet) above sea level, involves moving the water from four lakes high in the mountains into reservoirs the company would build.
The protesters say the reservoirs do not adequately replace the lakes, which also provide groundwater for agriculture and irrigate pasture for livestock.
Cajamarca is Peru's leading dairy and livestock region, and activists fear that pollution from the mine could affect agriculture.
The Newmont Mining Corporation says its plans have been drawn up in consultation with local communities and meet the highest environmental standards.
It says the Conga mine will generate thousands of jobs.
Peru's deputy environment minister Jose De Echave resigned on Monday, calling official environmental impact studies on the project "weak, outdated and lacking in credibility."
Political leaders in Cajamarca began a general strike against the project last Thursday and violence has been escalating, with sabotage of machinery and clashes with the police.
The dispute is a test for President Ollanta Humala, who is trying to balance the needs of the mainly poor people who elected him with the demands of the mining industry, one of the engines of Peru's economic growth.
Mr Humala was elected in June after promising to ensure poor Peruvians saw more benefit from the development of the country's natural resources.
Since taking office he has also increased taxes on mining companies and given indigenous communities the right to be consulted about development on their land.