Chile seeks Ray Davis extradition over 1973 coup murder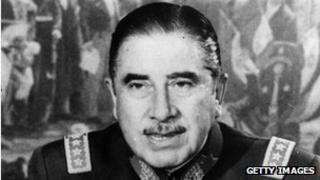 A Chilean judge is seeking the extradition of former US military attache in Chile, Ray Davis, who has been charged with the 1973 killing of a US journalist working in the country.
Charles Horman disappeared on 17 September 1973 - days after Gen Augusto Pinochet seized power in a coup. His body was found more than a month later.
He was investigating links between the CIA and the Chilean military.
His death was the subject of the 1982 Oscar-winning film Missing.
Judge Jorge Zepeda asked the Chilean Supreme Court to authorise an extradition request, so Ray Davis can stand trial in Chile for the murder of Mr Horman and student Frank Teruggi.
Mr Davis was known to have driven Mr Horman back from the coast to the capital, Santiago, a few days before the murders.
Mr Davis was the commander of the US military mission in Chile at the time.
Forced disappearance
Mr Horman was held and interrogated at the Chilean Ministry of Defence.
According to the investigation, one of those interrogating him was Pedro Espinoza, a Chilean army brigadier, who has also been charged with his murder.
A Chilean truth commission established that Mr Horman, 31, was executed on 18 September 1973 while he was in the custody of Chilean security officials. His body was later found in a Santiago street.
Frank Teruggi, a US student in Chile, was arrested in his home in Santiago and taken to the National Stadium, which was being used as a detention centre in the months following Gen Pinochet's coup.
He was murdered between the 21 and 22 of September 1973. His body was also found in a Santiago street.
According to declassified US State Department documents, US agents had been monitoring Mr Teruggi's activities since 1972.
Mr Teruggi had been writing for a left-wing publication in the United States.
Human rights groups, who have long alleged the CIA was closely involved in the military coup and its aftermath, have welcomed Judge Zepeda's investigation.
More than 3,000 people were killed or disappeared during the 1973-1990 rule of Gen Pinochet, according to official figures released by the truth commission.