Guyana voters head to polls to choose new government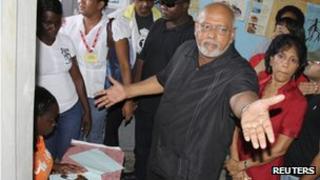 Voting is over in Guyana with the election outcome likely to continue to reflect the nation's racial divide.
The governing People's Progressive Party is being challenged by a coalition that includes its traditional rival, the People's National Congress.
Guyana has a parliamentary system, under which the majority party's candidate assumes the presidency.
Since independence from Britain in 1966, Guyana's politics have been largely split along ethnic lines.
The Alliance for Change (AFC), one of Guyana's newest political groups, is trying to break the two-party deadlock.
"Reason, not race," Khemraj Ramjattan, the AFC presidential candidate, told a recent debate in the capital, Georgetown.
"We've voted along ethnic lines for too long."
The PPP/C, backed mainly by the Indo-Guyanese community, is hoping to secure a fifth straight victory.
Incumbent president Bharrat Jagdeo cannot stand for a third term in office.
His successor as leader of the PPP/C, Donald Ramotar, held rallies across the country, many in agricultural communities dominated by Indo-Guyanese supporters.
"Land of bauxite, rice and sugar! Say yeah!" Mr Ramotar, 61, told a crowd in the town of Anna Regina.
The main challenger is A Partnership for National Unity, which groups the PNC with several smaller parties and is supported largely by Afro-Guyanese voters.
Their candidate is the former military commander, 66-year-old David Granger, who leads APNU.
In his campaign, he emphasised the need for greater security and more educational opportunities - the major concerns of his party's supporters, the urban Afro-Guyanese.
Same old story
Populated by slaves brought from Africa and then by indentured labourers brought from India and China, Guyana was Britain's only colony on the South American mainland.
The rich mix of different cultures is evident today, says BBC correspondent Sarah Grainger who recently visited Guyana. Local cuisine includes curry and roti alongside jerk chicken and rice.
Hindu temples are as ubiquitous as churches, and there are a couple of mosques. Musical tastes range from reggae to Bollywood classics.
While racial diversity makes for a fascinating fusion in Guyana it has also formed the foundations for the country's modern-day political tensions.
Violent clashes have erupted in the past between the two groups. Post-election violence continued for weeks after presidential polls in 2001 when Mr Jagdeo was declared the winner.
"Regardless of who wins the elections, the next Guyanese president must focus on changing the same old story - managing the tide of racial division," said Tristan Mohabir from the Council on Hemispheric Affiars in a recent report.