Mexico prison fugitives picked up in the Pacific Ocean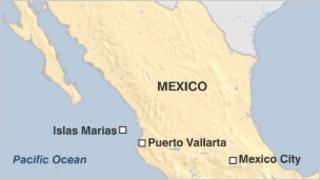 Six inmates who had escaped from an island prison off Mexico's Pacific coast have been recaptured at sea.
The men were using empty plastic containers and wooden planks to keep afloat as they tried to swim to shore.
They were picked up by the Mexican navy after a passing boat spotted them and alerted the authorities that people were floating in the water.
The convicts were some 100km (60 miles) south of the Islas Marias penal colony and 93km offshore when they were found.
The rescued men were first taken to the resort of Puerto Vallarta for a medical check.
When it emerged they had escaped from the penal colony, they were then handed over to the authorities to be returned to the island.
The fugitives were described as "sunburnt and unhappy" after their capture, but in acceptable health.
Islas Marias is the last island penal colony remaining in the Americas, and normally holds more than 1,000 inmates.
It lies 112km off the Mexican coast.