Mexico police find 26 bodies in cars in Guadalajara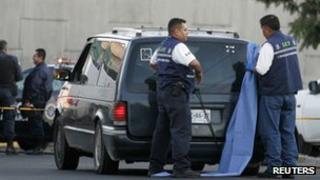 The bodies of 26 men have been found in three vehicles abandoned in the centre of Mexico's second city, Guadalajara.
Many of the men had been suffocated and some had the name of two drug gangs, Milenio and Zetas, daubed on them in oil, officials said.
It is the latest mass killing in what is being seen as an escalation in feuding between drug gangs.
On Wednesday, 17 charred bodies were found in vehicles in Sinaloa state.
Guadalajara, which recently hosted the Pan American Games, had until last year been relatively unscathed by the violence that has affected some other Mexican cities.
The three vehicles were discovered at a busy junction near one of Guadalajara's most recognisable landmarks, the Milennium Arches, on Thursday.
"There were 26 corpses altogether, all male and aged 25 to 35," state official Fernando Guzman told a news conference.
He said the words "Milenio" and "Zetas" had been written on the victims' chests.
The Milenio drug gang is known to operate in the area and reports suggest it has joined forces with the Zetas cartel.
Turf wars
The latest killings echo events in and around the eastern port city of Veracruz in September, when 35 bodies were found in vehicles that were blocking a busy road.
Officials blamed those killings on a drugs gang which calls itself the Zetas Killers and is believed to have ties to the Sinaloa cartel.
The Sinaloa gang dominated drugs trafficking in Guadalajara and the state of Jalisco, but since the death of one of its leaders in a police shoot-out in July 2010, battles between drug factions have increased.
Troops were out in force in Guadalajara during the Pan American Games last month, but their numbers have now been reduced.
The city is due to host what is billed as the world's most important Spanish-language book fair from Saturday, with up to 600,000 visitors expected.
Other major cities previously considered safe - such as Monterrey and Veracruz - have seen a sharp rise in violence over the past couple of years.
President Felipe Calderon deployed the army and federal police against Mexico's drug cartels after taking office in December 2006.
The government says record amounts of drugs have been seized, and cartel leaders captured or killed.
But the crackdown has led to an explosion of bloodshed, as the gangs fight both the security forces and each other, with more than 40,000 killed.