Mexico police find 17 burned bodies in two vehicles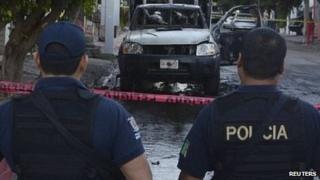 Mexican police have found 17 charred bodies in two pick-up trucks in Culiacan, the capital of Sinaloa state.
Firefighters were called to a burning vehicle and found a dozen corpses, while at another location five bodies were inside a charred truck.
Officials are investigating if the victims were among several people kidnapped in the state on Monday.
Sinaloa is the power base of the drug gang led by Mexico's most wanted man, Joaquin "Shorty" Guzman.
The governor of Sinaloa state, Mario Lopez Valdez, said he believed the killings were "a message between rival drug gangs".
Firefighters were called out to extinguish a burning vehicle early on Wednesday, officials said.
Minutes later, a second truck was reported to be on fire.
Officials said it appeared the victims had been shot dead, then the vehicles set alight.
Initial reports said 16 bodies had been recovered. Mexico's interior ministry, which put the number of dead at 17, condemned the violence and offered all assistance to the authorities in Sinaloa.
Elsewhere in the state, in Mexico's north-west, four men were found shot dead in the town of Mocorito, while another three people were killed in Guamuchil, officials said.
Joaquin Guzman and his Sinaloa cartel are believed to control much of the cocaine and marijuana trafficked into the US.
Earlier this month, an alleged senior figure in the Sinaloa cartel, Ovidio Limon Sanchez, was arrested in what authorities said was a major blow to the gang.
He is accused of overseeing huge shipments of cocaine into southern California and of running a network to distribute the drug throughout the US
More than 40,000 people have died in drug-related violence since late 2006 when president Felipe Calderon deployed troops to take on the traffickers.