Mexican troops seize $15.3m alleged drug cash from car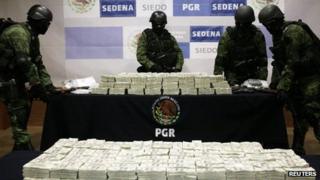 Soldiers in Mexico have seized $15.3m (£9.8m) in cash, believed to belong to the country's most wanted drug lord, Joaquin "Shorty" Guzman.
The security forces said they found the money when they searched a car in a well-to do neighbourhood of Tijuana, on the US-Mexico border.
They said the money was being taken to a safe house used by Shorty Guzman and his gang, the powerful Sinaloa cartel.
It is the second largest cash seizure since Felipe Calderon became president.
Defence Ministry spokesman Gen Ricardo Trevilla said the find was made during a "surprise operation" in the Cumbres de Juarez neighbourhood of Tijuana, in Baja California state.
He said the soldiers found $15.35m in cash, 3kg (6,6lb) of cocaine, four weapons, and jewellery inside the car.
Gen Trevilla said it was the biggest cache of cash found by the army since soldiers seized more than $26m in a house in Culiacan, in northwestern Sinaloa state in 2008.
He did not say what led the troops to the cash. No arrests were made.
Joaquin "Shorty" Guzman is Mexico's most wanted man and thought to be one of the country's richest.
Two years ago, he made Forbes magazine's list of the 67 World's Most Powerful People. At number 41, he was just below Iran's Supreme Leader Ayatollah Ali Khamenei.