Brazil's Dilma Rousseff approves truth commission law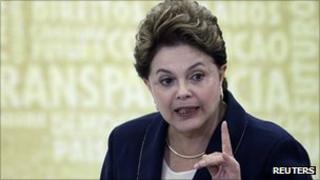 Brazilian President Dilma Rousseff has signed a law creating a truth commission to investigate human rights abuses, including those committed during military rule in 1964-85.
The commission will have the power to summon witnesses under oath and access all government documents.
But an amnesty law means its findings will not lead to any prosecutions.
More than 400 Brazilians were killed under military rule. Ms Rousseff was among thousands who were tortured.
"For generations of Brazilians who died, we honour them today not through a process of revenge, but through a process of building truth and memory," Ms Rousseff said during a ceremony at the presidential palace.
"The truth about our past is fundamental, so those facts that stain our history will never happen again," she added.
Secrecy
President Rousseff will appoint the seven-member commission, which will have two years to complete its report on abuses between 1946 and 1988.
She also approved a Law of Access to Public Information, which lifts the indefinite secrecy of public documents, making them open to the public after a maximum of 50 years.
The truth commission was proposed under the previous president, Luiz Inacio Lula da Silva.
At the time, military commanders were reported to be unhappy at the proposal, fearing it would threaten the 1979 amnesty law that protects the armed forces - as well as former left-wing rebels - from prosecution for political violence.
Some human rights groups have expressed disappointment that the commission's investigation will not be followed by prosecutions, as has happened in other South American countries.
More than 400 people were either killed or abducted and never seen again during military rule in Brazil - a far smaller number than in neighbouring Argentina and Chile.
But thousands of Brazilians were tortured, exiled or deprived of their political rights.