Chavez deploys troops to fight Venezuela crime wave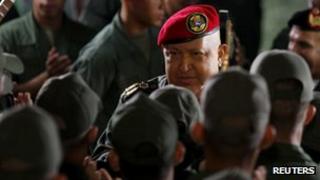 Venezuelan President Hugo Chavez has ordered thousands of National Guard troops onto the streets to tackle widespread violent crime.
The troops have been placed under a new command known as the People's Guard.
They will operate in the capital Caracas and two neighbouring states - Vargas and Miranda.
Rising levels of murder, kidnap and robbery in recent years have made Venezuela one of the most dangerous countries in Latin America.
Crime is expected to be a major issue in next year's presidential election.
President Chavez said the People's Guard had been created "for the benefit of the security of the streets of Venezuela, to reinforce the fight against crime and to give more life to our people", Venezuelan National Radio reported.
The new body will eventually comprise 3,650 troops, officials said.
Campaign issue
As well as tackling violent crime, the troops will support police and community groups to deter offences such as street drug-dealing and public drunkenness.
Rising crime has become a major source of public dissatisfaction in Venezuela, and a key campaign issue for opposition leaders seeking to challenge Mr Chavez in presidential elections in October 2012.
The extent of insecurity was underlined last week by the kidnap last week of the Venezuelan US major league baseball player Wilson Ramos.
Mr Ramos was abducted in his home town of Valencia but rescued by security forces two days later.