Mexico names Alejandro Poire as new interior minister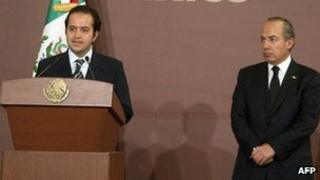 Mexican President Felipe Calderon has appointed the current head of the national intelligence agency, Alejandro Poire, as his new interior minister.
Mr Poire replaces Francisco Blake Mora, who died in a helicopter crash last week along with seven others.
The interior minister is second only to the president, with responsibility for national security including the fight against drug cartels.
Mr Poire is the fifth interior minister since Mr Calderon was elected in 2006.
He has run the Centre for Research and National Security (CISEN) since September, after serving as national security spokesman.
Mr Blake, a close ally of Mr Calderon, had been in his position since July 2010.
The investigation to determine the cause of the crash, which happened just south of Mexico City, is still under way. Officials have said initial results suggest it was an accident.