Guatemala to extradite ex-leader Alfonso Portillo to US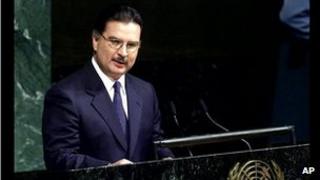 Guatemalan President Alvaro Colom has authorised the extradition to the United States of his predecessor, Alfonso Portillo.
Prosecutors in New York accuse Mr Portillo of using US bank accounts to launder millions of dollars in Guatemalan public funds.
A Guatemalan court cleared Mr Portillo - president from 2000 to 2004 - of embezzlement charges earlier this year.
There is no appeal against the decision to extradite him.
Guatemalan President Alvaro Colom said he would allow the extradition because "the president should not put his hand on the decisions of judges and magistrates."
Guatemala's Constitutional Court had ratified the extradition in August.
International allegations
Mr Portillo is accused of laundering $70m (£44m) through US banks. A federal grand jury in New York requested his extradition in January.
The jury accused Mr Portillo of embezzling Guatemalan public funds and hiding the money in offshore accounts.
Mr Portillo came to office on a promise to redistribute wealth, but opponents say his was one of the most corrupt administration in the country's recent history.
Mr Portillo left Guatemala for Mexico shortly after completing his term in 2004.
But in 2008, he was extradited to Guatemala to stand trial on charges he stole $15m from the military in 2001.
He was cleared of those charges in May.