Colombia Farc rebels pick Timochenko as new leader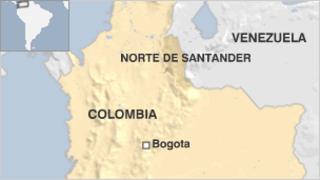 Colombia's largest rebel group, the Farc, says it has chosen Rodrigo Londono - better known by his alias Timochenko - as its new leader.
The Farc said Timochenko had been unanimously elected by the group's secretariat, its top body.
This follows the killing by the security forces of the previous leader, Alfonso Cano, on 4 November.
Timochenko is accused of being behind some of the Farc's most infamous attacks and kidnapping raids.
In a statement posted on a website sympathetic to the rebels, the group said its new leader would "guarantee the strategic plan for the take-over of power by the people".
Intelligence chief
The rebels said he had been unanimously elected by the Farc's ruling body on 5 November, one day after Alfonso Cano was killed.
The security forces say Timochenko leads a contingent of around 800 rebels in the eastern part of the country, on the border with Venezuela.
They think he is hiding in the Perija mountains.
He is believed to have started leading one of the rebels' military groups in 1982, which would make him one of their longest-serving commanders.
He is thought to have risen quickly through the guerrilla hierarchy, becoming their chief of intelligence.
The Colombian military says he has an extensive network of informants which has allowed him to evade capture.
More than 100 arrest warrants have been issued for alias Timochenko for alleged crimes including terrorism, kidnapping, rebellion, murder, and forced disappearance.
He is accused of having taken part in some of the Farc's most infamous attacks, including the 1998 rebel take-over of the town of Mitu.
According to government figures, 30 members of the security forces were killed in the attack and 61 were kidnapped, some of whom were in captivity for more than 12 years.