Mexican soldiers find 140 migrants hidden in a lorry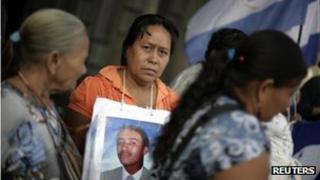 Soldiers in Mexico have found 140 Central American migrants hidden in a lorry.
The soldiers were searching the tractor-trailer for drugs when they came across a false wall behind which the migrants were hiding.
Two men were detained in connection with the find in the southern state of Chiapas.
Tens of thousands of migrants from Central America cross Mexico each year trying to get to the United States.
Many are discovered and sent back; others are forcibly recruited by drug gangs or killed.
Soldiers stopped the lorry at a routine checkpoint on the highway leading from Pijijiapan to Toniba in southern Chiapas state.
'Nervous drivers'
They said the two Mexican drivers were unusually nervous when questioned.
A thorough inspection of the tractor-trailer revealed a hidden wall behind which the soldiers found 128 men and 12 women.
The migrants, who said they were from neighbouring Guatemala, were taken to the local prosecutor's office in Arriaga.
In May, officials discovered more than 500 migrants travelling in two lorries, also in Chiapas state.
Around 500,000 illegal migrants try to cross Mexico each year in a bid to reach the United States.
Human rights groups say many fall into the hands of organised criminal gangs who exploit and abuse them.
A group of more than 30 mothers of missing Central American migrants has been travelling through Mexico trying to draw attention to the dangers migrants face in their attempts to reach the US.