Slow justice for Peru's 'disappeared' 20 years on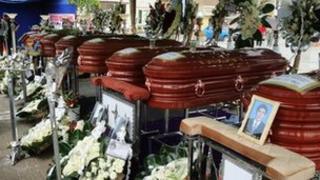 Twenty years after the worst period of Peru's civil war between security forces and Maoist guerrillas, the cases of those "disappeared" in the conflict still haunt the country.
"Disappearances?" shouts Maribel Barrientos in a tearful voice, as she marches holding a bouquet of white roses and red carnations.
Dozens of people are also with her, and respond in unison: "Never again!"
Ms Barrientos walks slowly in front of nine brown coffins which are being paraded in the central square of the town of Santa.
Inside are the remains of nine villagers who were abducted and killed by a death squad - the Grupo Colina - in the early hours of the morning of the 2 May 1992, at the height of Peru's bloody internal conflict.
For 19 years, the nine men were among thousands of others who are still unaccounted for.
Systematic murders, forced disappearances and nationwide terror plagued the Andean nation for two decades, from 1980 to the year 2000.
But in August of this year, their remains were unearthed - just their bones and the clothes they had been wearing when dozens of armed men in pick-up trucks took them away.
The villagers were buried in the cemetery of Santa, closing a long and painful chapter for their relatives, like Ms Barrientos, who lost two brothers during that fateful day.
"I believe that this will set a precedent for all of those whose rights have been violated and those who have been taken away from their loved ones," she says.
"It's a triumph for the people, a triumph for all who fight for social justice."
At the funeral was also Jorge Noriega whose son, Jesus Manfredo, was kidnapped when he was 39 years old.
"He would have been 58 today," he says. "It has been very painful to see my son, to see his mutilated body parts scattered all over like he was an enemy of the state.
"We do not want this to happen again."
Justice delayed
Peru's Truth and Reconciliation Commission, which was established in 2001 to examine abuses committed during the country's worst political violence, estimates that 69,000 people died or disappeared in the conflict.
Some of the main culprits of those bloody years are in jail. Alberto Fujimori, the former Peruvian president, is serving a 25-year prison sentence for human rights abuses and corruption during his 10-year mandate (1990-2000).
His de facto chief of secret police, Vladimiro Montesinos, is also in prison. It is to him that the Colina death squad, which killed the nine villagers, is linked.
But justice moves slowly in Peru. Many of the victims are still waiting to find out what happened to their loved ones, and they want the Peruvian government to speed up its programme of compensation.
Isabel Coral, who is in charge of CMAN, the high-level commission which looks after reparations, admits that results have so far been patchy.
"We can say that there is not a single person who has been totally compensated," she says.
"But we want to strengthen democracy here in Peru, and we are now planning to conclude this process of reparations within the next 10 years.
"The repayment of this past debt is fundamental for the government."
A national register has so far listed a total of 60,000 beneficiaries, far short of the 3m people believed to have been affected by the conflict.
They are receiving economic compensation from the government. The families of the victims of Santa will get, for example, a symbolic amount of 36,000 Peruvian soles ($13,300/£8,300).
Fundamental change needed
The government does not want to hand out only economic reparations, however, and says that it also wants to improve health facilities and education in the communities mostly affected by the violence.
But Gloria Cano, who is a lawyer representing some of the victims and who works for Aprodeh, a Peruvian human rights organisation, says government reparations are not enough.
She believes Peru needs a fundamental structural change at the highest levels.
"We have a justice system that is indifferent, a defence ministry that does not want to release information, and judges who don't want to believe the victims."
Ms Cano says that what happened in Santa is a clear example of a justice system that does not work.
"A lot of people said that it was not true that the men had disappeared, and claimed that they became subversives.
"But three months ago they found their bodies exactly how their families had described them, with the underpants and the shoes they were wearing when they disappeared.
"The victims have no reason to lie. To judges however, the word of a military man is more important than that of the victims. This needs to change," she says.
Back in the cemetery of Santa, the names of the nine villagers are called out, one by one, as their coffins are put in their final resting place.
Impromptu applause erupts each time.
It took their relatives almost two decades to give them a dignified burial.
The families of the many other unaccounted victims hope they will not have to wait another twenty years to find out what happened to their loved ones.