Mexican narcorridos singer Diego Rivas killed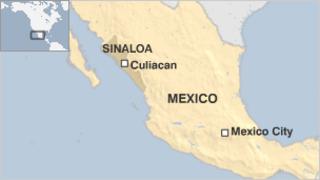 Police in Mexico say three people have been killed in a drive-by shooting in western Sinaloa state.
One of those killed is Diego Rivas, a singer of narcocorridos - songs glorifying drug traffickers.
Officials said gunmen opened fire on the singer and his friends in the city of Culiacan in the early hours of Sunday.
Police say musicians who celebrate the lives of drug barons often become targets for rival drug gangs.
One of Mr Rivas' songs is an ode to Joaquin Shorty Guzman, Mexico's most wanted drug lord.
Born in Culiacan, in Sinaloa state, Mr Rivas started singing in school contests.
He later joined the band Arriba Mi Sinaloa, but split from them in 2006. He has since been appearing with his band Los Guaruras.
Among his best known songs are Brindo con Sangre (I Toast With Blood) and El comander (The Commander).
Police said unidentified gunmen used an AK-47 rifle to kill Mr Rivas and two other men who were with him at the time.
Three other people were also injured in the attack.
Singers of the Grupero genre of music have in the past been targeted by drug gangs.
Last year, Sergio Vega, better known as El Shaka, was shot dead only hours after he had gone on radio to deny reports he had been murdered.
And in 2007, the singer of K-Paz de la Sierra was kidnapped, tortured and murdered after performing at a concert in the western state of Michoacan.