Abducted baseball star Ramos details Venezuela rescue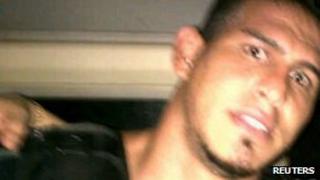 The US Major League baseball player, Wilson Ramos, who was kidnapped in Venezuela, has been talking about his ordeal.
Ramos, 24, a catcher for the Washington Nationals team, was saved by Venezuelan security forces in a dramatic rescue.
Six Venezuelans have been arrested in connection with the kidnapping, which lasted two days.
At least four Colombians are still being sought, including the suspected ringleader.
Ramos said he wondered whether he would survive the kidnapping, that ended when commandos raided his captors' hideout in the remote Montalban mountains.
He said the final moments of his rescue were hair-raising as police and the kidnappers exchanged heavy gunfire.
Colombian links
He said his kidnappers had carefully planned the abduction and told him they were going to demand a large ransom.
"I didn't know if I was going to get out of it alive," Ramos told reporters in his hometown of Valencia. "It was very hard for me. It was very hard for my family."
Justice Minister Tareck El Aissami, who was also at the news conference, said four of the captors, all of them Venezuelan men in their 20s, had been arrested.
A 60-year-old woman and a 74-year-old man were also arrested as accomplices for supplying the kidnappers with food, he said.
The authorities were still searching for at least four Colombian men who escaped during the rescue, Mr El Aissami said.
"Research suggests that there were people linked to Colombian paramilitary groups that could be involved in the abduction of Wilson Ramos," he told reporters.
Ramos said some of his abductors spoke with Colombian accents and revealed they had studied his movements before carrying out the abduction.
"They told me many things they knew of my private life," he said. "They knew a lot about me. They had very good information, an informant who told them all that."
Ramos was seized at his mother's home in Valencia, 150km (90 miles) west of the capital Caracas, after going to Venezuela to play games during the US close season.
Once investigators thought they had found the general area where Ramos might be, President Hugo Chavez personally authorised an aerial search mission and teams also set out on foot in the mountainous area, the Justice Minister said.
He said the teams searched most of the day on Friday and finally came upon the remote house where Ramos was being held.
Mr Chavez authorised the rescue operation and followed it "minute by minute", the minister said.
On Saturday, Mr Chavez congratulated all those involved in the rescue mission.
Sports figures have found themselves the target of violent crime in Venezuela in the past, but this is thought to be the first case targeting a baseball player in the US Major League.
Most kidnappings in Venezuela are carried out to extort a ransom.