Female suspect hides from police in Bolivia male jail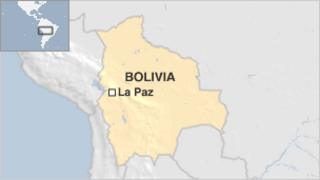 Police in Bolivia have detained a woman who hid inside an all-male prison to avoid being arrested.
Prosecutors accuse her of leading a gang of fraudsters.
They say a gang member, who had already been arrested, called the woman to warn her police were looking for her.
She visited him in jail and hid for four days, but was detained by prison staff as she was trying to leave the penitentiary in La Paz.
The suspect has now been sent to a female prison.
The woman is one of 15 alleged gang members to be detained on suspicion of fraud .
The gang is accused of using fake documents to try to withdraw large sums of money from bank accounts in Bolivia.