Nicaraguan navy kills four 'drug dealers' in boat chase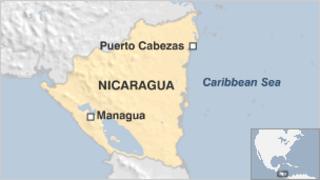 The Nicaraguan navy says it has killed four alleged drug dealers and seized more than a tonne of cocaine from a speedboat after a six-hour chase through Caribbean waters.
The marines say they were fired on as they finally closed in on the boat.
The four men on board, three Nicaraguans and one Colombian, were killed in the shootout which followed.
Nicaragua is on the main transit route for drugs smuggled from South America to the United States.
Military spokesman Juan Ramon Morales said officials seized 56 packages filled with cocaine, the speedboat, two rifles and a submachine gun.
Officials suspect two of the men to have taken part in a 2009 deadly ambush of two Nicaraguan navy personnel in the remote coastal town of Walpasiksa.