Argentina condemns Prince William Falklands posting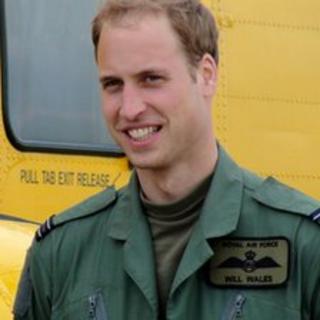 The Duke of Cambridge's posting to the Falkland Islands has been condemned by Argentina as a "provocative act".
Britain says Prince William's deployment for training as a helicopter rescue pilot is routine.
But Argentine official Sebastian Brugo Marco said Argentina could not ignore the "political content" of the mission.
The prince's tour next year will come shortly before the 30th anniversary of Argentina's defeat in the Falklands War.
Argentina still claims sovereignty over the islands, which it calls Las Malvinas.
Mr Brugo Marco, the Argentine official with responsibility for the South Atlantic territory, made his comments in an interview with the Argentine newspaper, La Nacion .
"It is one more provocative act that shows Britain's military presence in a zone of peace where there is no armed conflict," he said.
"One cannot ignore the political content of this military operation bearing in mind that the prince forms part of the Royal Family".
'Arrogant' Britain
The Royal Air force has stressed that the posting is a normal part of Prince William's training and says he will not perform any ceremonial duties.
His uncle, the Duke of York, served as a helicopter pilot in the 1982 conflict, when Argentina invaded the islands only to be defeated by a British task force.
Earlier this year Argentine President Cristina Fernandez de Kirchner called Britain "arrogant" for refusing to negotiate on the islands.
Her government stepped up its campaign to gain sovereignty over the territory in 2010 after Britain started to search for oil in Falklands waters.
UK Prime Minister David Cameron has said there can be no negotiations on the status of the islands unless the people of the Falklands want them.
Britain has ruled the Falklands for more than 180 years, but Argentina insists it has a prior claim.