Colombia mudslide deaths mount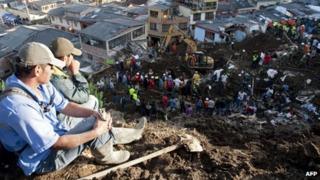 The number of people known to have died in a mudslide in western Colombia has risen to at least 38.
Rescuers are continuing to search for more than 20 people believed buried beneath 300 tonnes of earth and mud.
Fourteen homes were swept away when a hillside collapsed in the city of Manizales on Saturday.
Colombia is experiencing one of the worst rainy seasons in memory, which has forced the evacuation of about a quarter of a million people.
Sixteen people were pulled alive from the mud, but some are still feared trapped.
Red Cross official Juan Manuel Osorio said he had no exact figure for those still missing.
Desperate search
He said most of the residents would have been at home when the hillside collapsed at 06:00 (11:00 GMT).
President Juan Manuel Santos travelled to Manizales on Sunday to express his condolences to the families of those who died.
He said the tragedy could have been avoided if local residents had followed an evacuation order issued after heavy rains had soaked the hillside the neighbourhood clings to.
He said those affected by the tragedy would be given state subsidies and he promised that rescuers would continue searching for survivors non-stop.
Heavy rains also caused the death of eight swimmers in the western city of Cali.
They were swept away and drowned in strong currents in the rain-swollen Menendez river.
Meteorologists say heavy rains are expected to continue throughout November and December, with double or triple the average rainfall possible.