Profile: Guatemala President Otto Perez Molina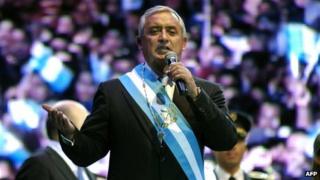 Otto Perez Molina, sworn in as Guatemala's new president, retired from the army 11 years ago, but his promises during November's elections suggest the military influence still runs deep.
Mr Perez Molina, who ran unsuccessfully in the 2007 election, made tackling Guatemala's high crime rate and combating the presence of Mexican drug gangs in the country his priorities.
His campaign slogan spoke of crushing crime with an "iron fist ", an image reinforced by the clenched fist emblem of his right-wing Patriotic Party.
"Today, I call on my international associates to combat drug trafficking: Mexico, Central America, and I make a special call to the United States," he said during his inauguration on 14 January.
Mr Perez Molina - the first military figure to lead Guatemala since the return to democracy in 1986 - also pledged to boost police numbers and deploy more troops to take on organised crime.
Political opponents and human rights groups have expressed concern that the 61-year-old president will lead an authoritarian and repressive government.
"Not at all. 'Iron fist' captures in two words the character, firmness, leadership and commitment to tackle the threats we face today in Guatemala," Mr Perez Molina told BBC Mundo in an interview before the elections.
Mr Perez Molina, who was trained in counterinsurgency, has been accused of rights abuses committed during Guatemala's long civil war in which an estimated 200,000 died.
He led troops in the Quiche region, where there were many civilian deaths, before going on to head military intelligence from 1991 to 1993.
Mr Perez Molina also participated in negotiations that brought the 36-year conflict to an end in 1996, signing the peace accord on behalf of the army.
He says there is no evidence to support allegations of abuse against him.
"Very small groups have made the accusations but they have been incapable of producing any evidence or winning any trial," Mr Perez Molina told the BBC.
Mr Perez Molina, who has also served as member of Congress, has said he will set up a social development ministry to help tackle Guatemala's deep-rooted poverty.