Honduras arrests 176 police in corruption purge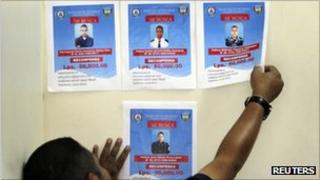 A total of 176 Honduran police officers have been arrested in a purge against corruption and organised crime, the authorities there say.
The security ministry said the officers were suspected of offences including murder, kidnap and drug dealing.
The arrests follow public outcry over the release of four policemen accused of murdering two students.
Earlier this week President Porfirio Lobo sacked his top police commanders and deployed troops to combat crime.
"We have to get rid of the rotten apples in the National Police," Mr Lobo said on Wednesday.
The Congress has begun debating a new law to reform the police force and tackle corruption.
Outrage
The officers arrested in the purge on Wednesday belong to the same unit as the officers accused of murdering two students a week ago.
The release of the suspected killers, who have gone into hiding, provoked outrage in Honduras.
Four other officers suspected of involvement are still in custody.
There has also been anger over the recent revelation that 300 automatic rifles plus ammunition had been stolen from a police station.
Honduras has been suffering soaring levels of violent crime, which the police have been unable to contain.
According to a UN report it had the world's highest murder rate in 2010, with much of the killing linked to criminal gangs.
It is also a major transit route for drug traffickers moving South American cocaine north to Mexico and on to the United States.