Former Colombian rebel elected mayor of capital, Bogota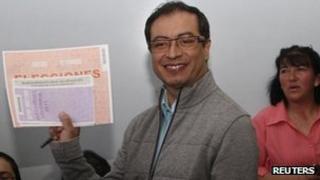 A former left-wing rebel has been elected mayor of the capital, Bogota, as Colombians vote in local elections.
Gustavo Petro, 51, a former guerrilla with the defunct M-19 movement, won 32% of the vote after running a "zero corruption" campaign.
His main opponent Enrique Penalosa, the favoured candidate of former President Alvaro Uribe, conceded after polling 25%.
During a violent campaign, 41 candidates were killed nationwide.
Mr Petro said his win showed that reconciliation was possible in Colombia, which is plagued by violence from left-wing guerrillas and right wing death squads. Thousands die each year in Colombia's armed conflicts, which are fuelled by cash from the illegal narcotics trade.
"Bogota has chosen as its mayor a son of the peace process of 1989," Mr Petro said in his acceptance speech. "Bogota is saying yes to reconciliation, yes to peace."
He was given amnesty after serving two years in jail for his involvement in the M-19 group.
Five years ago, his denunciations as a senator of close ties between national and regional politicians and right-wing death squads spurred the so-called "parapolitics" scandal that has landed more than 60 politicians in prison for crimes ranging from criminal conspiracy to murder.
Last year, Mr Petro helped uncover a bid-rigging scandal in Bogota that has landed its previous elected mayor, Samuel Moreno, in jail facing corruption charges.
The voting in the capital was part of nationwide regional and municipal elections, with 32 governorships and more than 1,100 mayoral and municipal council post being contested.
Authorities and electoral watchdog groups reported relatively few voting irregularities.