Brazil creates truth commission to probe rights abuses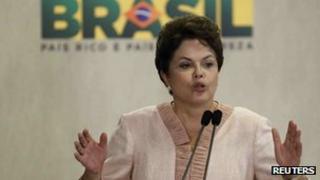 Brazil's Senate has voted to set up a truth commission to investigate rights abuses, including those committed during military rule from 1964 to 1985.
The bill, already passed by the Chamber of Deputies, now goes to President Dilma Rousseff to be signed into law.
Ms Rousseff, a former left-wing activist jailed by the military, had urged Congress to pass the legislation.
The commission will examine abuses from 1946 to 1988, but a miitary-era amnesty means there will be no trials.
The amnesty law, passed in 1979 and upheld last year by the Supreme Court, means neither military officials accused of torture nor left-wing guerrillas accused of violence can face prosecution.
Nearly 500 people were killed or disappeared during military rule in Brazil, a far smaller number than in neighbouring Argentina and Chile.
But thousands of Brazilians were tortured, exiled or deprived of their political rights.
Supporters of the truth commission argue that it will help Brazil to come to terms with its recent past.
"We have a wound that will never heal, no matter what the commission finds. We want to find answers to the questions that remain and which cannot continue in a democracy," said Senator Aloysio Nunes.
But for some, the commission does not go far enough.
"It's a timid commission, much less than those set up in Uruguay and Argentina," Senator Randolfe Rodrigues was quoted as saying by Brazil's Folha newspaper.
It will be composed of seven people who will have two years to examine reported abuses and draw up a report.
The commission was proposed under the previous president, Luiz Inacio Lula da Silva.
At the time, military chiefs were reported to be deeply unhappy at the proposal, fearing it would be an attempt to circumvent the amnesty law.