Uruguay overturns amnesty for military-era crimes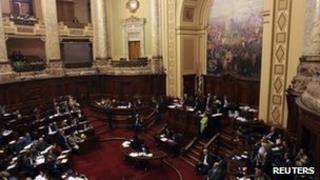 Uruguay's Congress has voted to revoke an amnesty law that protected officers from prosecution for crimes committed during military rule from 1975 to 1983.
After hours of intense debate, deputies backed the measure which now goes to President Jose Mujica, himself a former left-wing militant, for approval.
Opponents say the decision undermines the will of the Uruguayan people who twice voted to keep the amnesty.
An estimated 7,000 political prisoners were held and many were tortured.
In an sign of the divisive nature of the proposal, Uruguay's Chamber of Deputies debated for 12 hours whether the amnesty in force since 1985 should be overturned.
Finally, 50 out of 90 deputies voted to scrap the law, following a similar move by the Senate on Tuesday.
Those in favour of ending the amnesty say it will help Uruguay to comply with a ruling by the Inter-American Court of Human Rights to investigate alleged crimes from the era of military rule.
The amnesty law has been ruled unconstitutional by Uruguay's Supreme Court, but until now survived numerous challenges, including an attempt in Congress in May to annul it.
It was put to the vote in 1989 and then in 2009, and on both occasions there was not enough support to overturn it.
Supporters of the amnesty say Congress has ignored the electorate's wishes.
Ahead of the vote, members of the armed forces said they would seek prosecution of former Tupamaro guerrillas if the amnesty were revoked.
Under the amnesty law, the president could decide whether investigations into cases of alleged abuses should be allowed to proceed.
During the presidencies that followed military rule, many cases were blocked.
Current President Jose Mujica, a former Tupamaro leader who was jailed during military rule, previously argued against scrapping the amnesty, pointing to the referendum results.
But he has since indicated that he will sign the measure revoking the amnesty before 1 November, after which the time limit for trying military-era human rights would have expired.