Brazil's Sports Minister Orlando Silva quits in scandal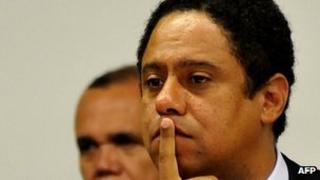 Brazilian Sports Minister Orlando Silva has resigned after being accused of corruption.
Mr Silva is the fifth cabinet minister to leave office amid corruption allegations since President Dilma Rousseff took office in January.
He has denied accusations that he helped arrange kickbacks worth millions of dollars from a fund to promote sport for poor children.
Mr Silva was in charge of preparing for the 2014 World Cup and 2016 Olympics.
He announced his resignation after a meeting with President Rousseff, saying he was leaving the government to "defend his honour".
"She supported my decision because she understands that this way I will be better able to defend my honour, which has been damaged without any proof," Mr Silva said in a brief statement to reporters.
Allegations against Mr Silva were first published in the influential magazine Veja earlier this month.
Its report accused him of helping embezzle $23m (£14m) from a government scheme that promotes sport for children from poor backgrounds.
The money was allegedly used for personal enrichment and to fund the Communist Party of Brazil (PCdoB), which is part of Ms Rousseff's governing coalition.
The main source of the allegations said Mr Silva personally received bundles of cash in the garage of the ministry.
But Mr Silva has vehemently denied the accusations, calling his accuser a "delinquent".
Ms Rousseff launched a drive against corruption in July after several senior members of her government were accused of corruption.
Her chief of staff and the ministers of agriculture, tourism and transport have all been forced from office after being accused of corruption.