Rio lawmaker Marcelo Freixo 'to flee' Rio after threats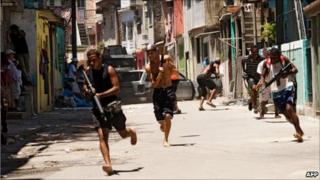 A congressman in Rio de Janeiro says he will flee Brazil with his family on Tuesday after an escalation of threats to his life.
Since 2006, Marcelo Freixo's work to expose the city's militias has earned him a price on his head of 400,000 reais (£143,000; $230,000).
It was his campaign that inspired Brazil's biggest grossing movie to date, last year's Tropa de Elite 2, which shows how militias - gangs formed of current and former police, firemen, soldiers and security guards - are taking over from the traditional scourge of drug dealers in the city's slums.
These militias run services such as gas, water and alternative transport in slums, as well as charging protection money and ruling with violence and fear.
A further source of concern was the murder on 11 August of judge Patricia Acioli. It led to the resignation of chief of police Mario Sergio Duarte and the arrest of a large number of police officers.
The murder of the judge, known for her hard line against corrupt police in the dock, sparked comparisons with the Italian Mafia and is one of the reasons for Mr Freixo's decision to leave.
"Patricia Acioli was threatened but at the time everyone said that no-one would kill her," he said.
He will travel to Europe on the invitation of Amnesty International although the destination has not been disclosed.
Follow the money
An investigation led by Mr Freixo in 2006 indicted 225 people including congressman Natalino Jose Guimaraes who was sent to prison in 2007 for his involvement with militias.
He is still there, along with a steady flow of local politicians, sentenced over the intervening years.
Mr Freixo says: "When you talk about crime here, you have to talk about the police and the politicians.
"My investigation was seriously delayed because there were a lot of interested parties.
"We put a lot of people in prison, which was important as it weakened the militias. But we need to hit them financially. Above all, it is a business."
His final report put forward 58 recommendations to combat the problem, but many have yet to be implemented.
The authorities in Rio have concentrated their efforts in using Unidades de Policia Pacificadora (UPP or Pacifying Police Units) to drive drug gangs out of the slums and replace them with a permanent police presence.
Rio Security Secretary Jose Mariano Beltrame says this project is not connected to the Olympics, despite the target for completion being 2014.
Rio is hosting the Olympics in 2016 and the World Cup in 2014.
"The UPP has nothing to do with the Olympics and the World Cup. We are not preparing Rio for events. We are preparing it for its citizens," he says.
Mr Beltrame has said that he is now more worried by the presence of militias than drug gangs.
However, no UPPs have been designated for any areas controlled by them.
Some argue the UPPs have created a power vacuum which has only made the militias more powerful.
According to recent research by Rio-based newspaper O Globo, the number of slums controlled by the most powerful drug gang is now 55 - and those controlled by militias stands at 105. It has been suggested a form of militia-style gangs exists in all states of Brazil.
Controlling communities
Tropa de Elite 2's hero, Capt Nascimento, was partly based on the special force's former captain and adviser to the film, Paulo Storani.
Now a researcher and criminology professor, Mr Storani had also worked with Patricia Acioli in his current capacity as security secretary for Sao Goncalo, a city in the state of Rio.
What makes the murder so serious is that police officers have been accused of the crime, Mr Storani says.
"The police in Rio are in crisis."
He believes that today the militias present a more serious problem than the drug dealers.
"They use the same methods to control communities, but they know how the system works. They have people inside the system and inside information.
"They are getting stronger and I believe the militias will eventually start selling drugs. The demand exists, and now there is a vacancy."
Both Mr Freixo and Mr Storani say that Tropa de Elite 2 has helped to change the public attitudes - many had previously thought of militias as the "lesser evil", providing some services in neglected communities.
The film has been entered in the category of Best Foreign Film for the Oscars and its impact in Brazil has been attributed to the similarities between fiction and reality.
Last month the actor who plays hero Capt Nascimento in Tropa de Elite 2, Wagner Moura, appeared at the headquarters of the Brazilian Bar Association (OAB) along with director Jose Padilha.
They were among those speaking at a hearing organised by the OAB in defence of Mr Freixo's life.
Despite admitting he has fears for his family, Mr Freixo says he will not give up.
"My life is not easy. But I will not retreat," he says. He plans to launch a campaign to run as Mayor of Rio de Janeiro in 2012 once he has returned from Europe, during which time he intends to step up his security.