Brazil court investigates sports minister Orlando Silva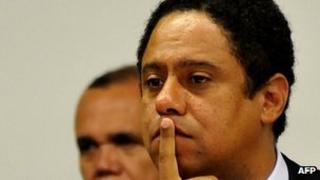 Brazil's supreme court is launching a formal investigation into corruption allegations against Sports Minister Orlando Silva.
Mr Silva, who is in charge of preparations for the 2014 World Cup, has been accused of helping embezzle millions of dollars in public funds.
He has dismissed the allegations as farcical and false.
He is the fifth minister to face corruption allegations since President Dilma Rousseff took office in January.
The other four resigned or were sacked despite denying wrongdoing.
Opposition parties and prominent newspapers have urged Mr Silva to do the same, but he insists he will clear his name.
The supreme federal court has demanded the sports ministry hand over all relevant documents within 10 days.
His predecessor as sports minister, Agnelo Queiroz - who is now governor of the Federal District of Brasilia - is also being investigated.
Kickbacks
Allegations against Mr Silva were first published in the influential magazine Veja earlier this month.
Its report accused him of arranging millions of dollars in kickbacks from organisations involved in a government scheme that promotes sport for children from poor backgrounds.
The money was allegedly used for personal enrichment and to fund the Communist Party, which is part of President Dilma Rousseff's governing coalition.
The main source of the allegations is a military police officer, Joao Dias Ferreira, who says Mr Silva personally received bundles of cash in the garage of the ministry.
President Rousseff launched a drive against corruption in July after several senior members of her government were accused of corruption.
Her chief of staff and the ministers of agriculture, tourism and transport have all been forced from office after being accused of corruption.
Correspondents say the allegations of corruption in the sports ministry are particularly embarrassing as Brazil prepares to host the football World Cup in 2014 and the Olympic Games in 2016.