Hurricane Rina weakens as it nears Cancun in Mexico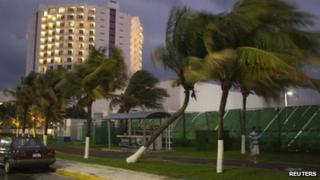 Hurricane Rina has weakened to a category one storm as it approaches Mexico's Caribbean coast, the US National Hurricane Center (NHC) says.
It is expected to lose more force before it makes landfall on the Yucatan peninsula on Thursday.
But it should still be at hurricane strength, bringing a dangerous storm surge and torrential rains.
Mexico's top tourist destination, Cancun, and other beach resorts have been preparing for its arrival.
Homes and businesses have been boarded up, schools have been closed and hurricane shelters have been opened.
Hundreds of people have been evacuated from fishing villages vulnerable to destructive waves.
Downgrade
Forecasters had previously warned that Rina would strengthen before it reached land.
But at 16:45 GMT, the NHC said Rina had "significantly weakened," and maximum sustained winds had dropped to 145km/h (85mph).
It was expected to pass over Cancun and other resorts along the Yucatan coast, known as the Mayan Riviera. It could also brush neighbouring Belize.
Rains of 20-40cm (8-16in) are forecast, as well as large destructive waves and a storm surge as much as 60-120cm (2-4ft) above normal tide levels.
Cancun was badly hit by Hurricane Wilma in 2005, which wrecked large areas of the city and stripped around 60% of the resort's white sand.
The Mexican government subsequently spent more than $100m rebuilding the beaches, a key tourist attraction
Astronauts
The approach of Hurricane Rina has also disrupted a Nasa space training programme off the coast of Florida.
Astronauts were evacuated from a unique underwater laboratory where they were training for a trip to an asteroid.
The six-person crew was five days into a 13-day underwater mission designed to simulate near zero-gravity conditions.
The Aquarius underwater laboratory was being used by Nasa Extreme Environment Mission Operations - known as Neemo.