Hurricane Rina forms in Caribbean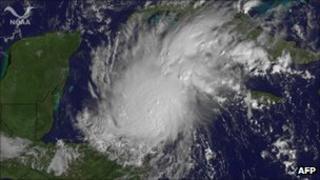 Hurricane Rina has formed in the western Caribbean, threatening to bring heavy rain and powerful winds to southern Mexico and Central America.
A Nicaraguan navy vessel that was evacuating coastal residents has gone missing with 27 people on board.
Rina is heading towards Belize and Mexico's Yucatan peninsula, the US National Hurricane Centre (NHC) said.
Much of Central America is already waterlogged after intense downpours that killed around 100 people.
At 1800GMT the NHC said Rina was a category one storm with sustained winds of 120km/h (75 mph).
It was centred 310km (195 miles) southwest of Gran Cayman island and was expected to develop into a major hurricane as it moved slowly towards the mainland.
The Cayman Islands have been told to expect 5-10cm (2-4 inches) of rain.
Belize and Mexico's Yucatan peninsula - a major tourist destination - have been warned to monitor its progress.
Rina quickly gained hurricane strength after moving up the coast of Honduras and Nicaragua as a tropical depression.
The Nicaraguan naval launch that went missing on Sunday had been evacuating indigenous Miskito fishermen from offshore islands threatened by the storm, officials said.
Other ships and aircraft have been searching for survivors.
Along with El Salvador, Guatemala and Honduras, Nicaragua was already struggling to recover from two weeks of torrential rains that have caused deadly floods and landslides.