Haiti's new government takes office after long delay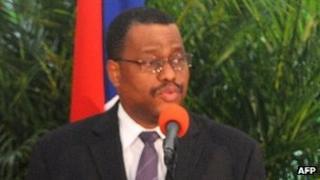 Haiti's new prime minister and his cabinet have taken office after months of delay in forming a government.
Prime Minister Garry Conille's 17-member team and programme were endorsed by parliament over the weekend.
The cabinet faces a widespread cholera epidemic and the need to rebuild the country after a devastating earthquake in January 2010.
The government was installed five months after musician Michel Martelly was sworn in as president.
'Open for business'
Mr Conille said that Haitians had been suffering for "too long" in makeshift shelters since the earthquake that killed nearly 250,000 people.
The premier earlier pledged to attract investment to rebuild the country - the poorest in the Western hemisphere.
His programme foresees economic growth at more than 9% annually, from around 6% expected this year. The economy contracted after the quake.
Mr Conille, formerly an aide to US ex-President Bill Clinton, was appointed by the senate earlier this month.
He was Mr Martelly's third nominee for the post; the first two were rejected by lawmakers in June and August.
On a recent visit to neighbouring Dominican Republic, Mr Martelly acknowledged the delay in forming a government, but said it was better to "do it right" than to do it quickly.
"This is a signal to the world that Haiti is really open for business and that Haitians can put their differences behind them to work for the common good and interest of the Haitian people," he told Reuters.
"If we had had a government earlier we could have done much more by now. It took time, but in the end it is better to take the time to do it right than do it fast but wrong," he added.
Mr Martelly was elected president in March in a run-off poll, after a first round marred by fraud.