Colombia model Angie Sanclemente denies drug charges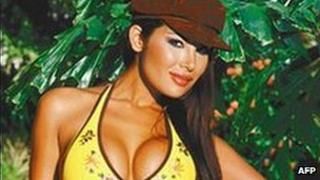 A former Colombian beauty queen has denied drug-smuggling, at the start of her trial in Argentina.
Model Angie Sanclemente Valencia, 31, is accused of recruiting other young women to smuggle cocaine to Europe via Mexico.
She told the court in Buenos Aires she came to Argentina to get married, not to smuggle drugs.
Her Argentine boyfriend Nicolas Gualco and five other suspects are also on trial.
'Act of love'
"I did not come here to commit crimes, I am not a narco-trafficker," Ms Sanclemente told the court.
All she had done was "make a few calls" on behalf of her fiance Mr Gualco, she said.
"God knows I did it for love."
Her lawyers say there is no evidence against her, and that her only link with the case was her relationship with Mr Gualco.
Ms Sanclemente was arrested in Buenos Aires in May last year after several months as a fugitive.
She said she had gone into hiding after her boyfriend was arrested because she feared being raped in prison.
The investigation began after another suspect was found carrying 55kg of cocaine boarding a flight to Cancun in Mexico.
In 2000 Ms Sanclemente won the popular Colombian title of Coffee Queen, but had to return it when it was discovered she was married, in breach of the beauty pageant's rules.