Brazil sports minister Orlando Silva denies corruption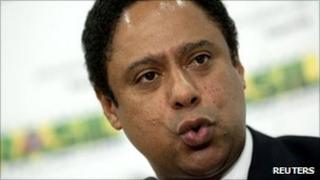 Brazilian Sports Minister Orlando Silva has denied accusations that he was involved in the embezzlement of millions of dollars in public funds.
The influential Brazilian magazine Veja published detailed allegations that he took cash from a scheme to promote sport among poor children.
But Mr Silva has dismissed the report as "farcical" and "false".
The corruption allegations are the latest in a series to hit the cabinet of President Dilma Rousseff.
Four ministers have resigned or been sacked after being accused of corruption since she took office last January, though all denied wrongdoing.
Mr Silva is in charge of preparations for the 2014 World Cup and 2016 Olympic Games.
He is also the only minister from Brazil's Communist Party, which is part of President Rousseff's governing coalition.
'Falsehoods'
Mr Silva rushed back to Brazil from the Pan-American games in Mexico to defend his reputation.
"I vehemently repudiate the falsehoods published this weekend," he said at a news conference.
"It is unacceptable that lies from discredited people, whose sources are criminals, should have the repercussions they are having."
Mr Silva added that he would ask the police and prosecutors to investigate the allegations, and would make a statement to the Brazilian congress on Tuesday.
The Veja report accused Mr Silva of heading a scheme dating back to 2004 under which kickbacks were charged on public works contracts and used to fund the Communist Party.
Some of the money allegedly embezzled was from a programme called "Second Half" that promotes sport for children from poor backgrounds.
President Rousseff - who is on a trip to South Africa - has backed Mr Silva, saying she "presumed his innocence".
Mr Silva was deputy sports minister under her predecessor, Luis Inacio Lula da Silva.
Since she took office, Ms Rousseff has advocated a zero tolerance approach to corruption.