Mexico army frees 61 kidnap victims in Coahuila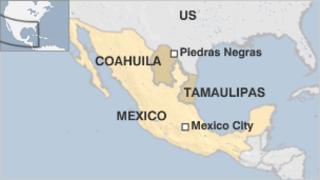 The Mexican army says it has rescued 61 men who were being held prisoner by a drugs gang near the border with the US.
The captives were found in a house guarded by three suspected kidnappers in the town of Piedras Negras in Coahuila state.
They said they had been abducted from various parts of Mexico and forced to work for organised crime.
Mexico's drugs cartels are frequently accused of kidnapping and of exploiting migrants trying to cross the US border.
Troops found the captives during a security sweep in which six tons of marijuana were also discovered.
They did not say which criminal organisation was involved.
Several different drugs gangs operate in Coahuila state, including the Zetas and Gulf cartels, which have been fighting a bloody battle for control of smuggling routes into the US.
Massacre
Piedras Negras, across the border from Eagle Pass in Texas, is thought to be a stronghold of the Zetas.
Last year the Zetas were blamed for the massacre of 72 foreign migrants in the northern state of Tamaulipas after they apparently refused to work for the cartel.
They were also blamed for the murder of more than 100 people whose bodies were found in mass graves in Tamaulipas after apparently being kidnapped from buses.
Around 40,000 people have been killed in drug-related violence in Mexico since President Felipe Calderon began using troops to combat the cartels nearly five years ago.