Haitian parliament approves new government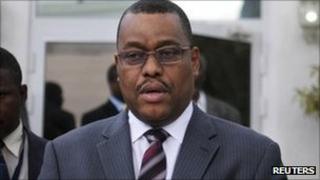 Haiti's parliament has approved a new cabinet, ending months of delay in forming a government.
The Chamber of Deputies endorsed Prime Minister Garry Conille's 17-member cabinet and government programme after more than 14 hours of debate.
Mr Conille's programme aims to attract investment to help the country rebuild after a devastating earthquake in 2010.
President Michel Martelly, who won polls in March, said it was a sign that Haiti was "open for business".
The cabinet is set to be sworn in on Tuesday.
'Put differences aside'
Lawmakers approved the government's ambitious legislative plan after an all-night session.
"We wish you good luck but this is not a blank cheque," Speaker of the House Saurel Jacinthe told Mr Conille, according to AFP news agency.
The programme foresees economic growth at more than 9% annually, from around 6% expected this year. The economy contracted in 2010 as a result of a crippling earthquake.
"This strategy aims to create thousands of jobs, causing a revolution of inclusive growth," Mr Conille told the parliament, reports Reuters.
Mr Conille, formerly an aide to US ex-President Bill Clinton, was appointed by the senate earlier this month.
He was Mr Martelly's third nominee for the post; the first two were rejected by lawmakers in June and August.
On a visit to neighbouring Dominican Republic, Mr Martelly acknowledged the delay in forming a government, but said it was better to "do it right" than to do it quickly.
"This is a signal to the world that Haiti is really open for business and that Haitians can put their differences behind them to work for the common good and interest of the Haitian people," he told Reuters.
"If we had had a government earlier we could have done much more by now. It took time, but in the end it is better to take the time to do it right than do it fast but wrong," he added.
Mr Martelly was elected president in March in a run-off poll, after a first round marred by fraud.
As he took office in May, Mr Martelly pledged to speed up earthquake reconstruction, develop the impoverished countryside and build a modern army.
Hundreds of thousands of Haitians still live in tents after the devastating January 2010 earthquake.
But the new president has needed a prime minister to assemble a government that can work with international agencies involved in the task of rebuilding.
More than three-quarters of Haitians live under the poverty line.