Mexico prison fight kills 20 in Matamoros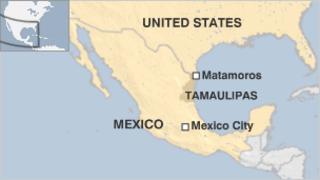 A fight between prisoners at a jail in Matamoros in northern Mexico has left 20 inmates dead, the authorities say.
A dispute between two inmates escalated overnight as other prisoners got involved, officials said.
State and federal police were called in to help the guards regain control at the prison near the US border.
Matamoros is in Tamaulipas state, where rival drug gangs have been fighting a bloody war for control of smuggling routes into the US.
The state government gave no details of what weapons were involved in the prison fight or how the victims died.
Another 12 inmates were injured in the violence.
Many of Mexico's prisons are overcrowded and plagued by violence linked to powerful drugs cartels.
Gang warfare and mass break-outs are not uncommon, particularly in northern Mexico.
Strategy
More than 40,000 Mexicans have died in drug-related violence since December 2006, when President Felipe Calderon began deploying troops to combat the cartels.
President Calderon has been defending his policy of confronting the cartels in a meeting with the poet Javier Sicilia, who became a peace campaigner after his son was murdered in March.
Mr Calderon said the army would remain on the streets as long as the police were too weak to guarantee public security without military support.
"It is not the state that repressing and murdering," he said, putting the blame for the bloodshed on the drugs cartels.
Mr Sicilia and other campaigners have been calling for an end to the use of the military against the drugs gangs, a strategy they say has only worsened the violence.