Uruguay ex-head Vazquez quits politics over war comment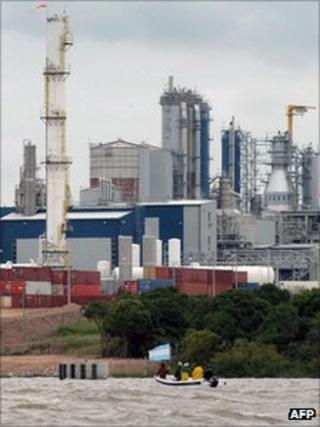 Former Uruguayan President Tabare Vazquez says he is abandoning politics after revealing earlier this week that he had considered war with Argentina.
Mr Vazquez, in office from 2005 to 2010, said he had weighed a war option amid a dispute with Argentina over a pulp mill on their border.
His remarks were heavily criticised by politicians in both countries.
Mr Vazquez, seen as a possible candidate for the 2014 election, said his comments had been ill-timed.
The pulp mill row strained ties between Argentina and Uruguay for several years, and there were frequent demonstrations on the bridge linking the two countries.
Speaking in public on Tuesday, Mr Vazquez said he had considered going to war over the issue and had even asked then US President George W Bush for support.
Amid widespread criticism, Mr Vazquez on Thursday issued a statement saying his comments were an account of what happened but that they were "inopportune".
Mr Vazquez said he had no intention of damaging his own party, the Frente Amplia (Broad Front), and was therefore resigning from frontline politics.
Mr Vazquez, who was constitutionally barred from standing for immediate re-election, had been considered his party's likely candidate for the next presidential poll.
Pollution monitors
Opposition politicians voiced scepticism that he would disappear from the political scene, while members of his party urged him to reconsider.
Political analysts also suggested that it was likely Mr Vazquez would be back.
Mr Vazquez was "the most popular political leader at the moment and a strong candidate for the next election," polling expert Ignacio Zuasnabar told Uruguay's El Pais newspaper.
The pulp mill, which opened in 2007, is located in the Uruguayan town of Fray Bentos on the banks of the River Uruguay, which forms the border between the two South American nations.
Residents across the river in the Argentine town of Gualeguaychu staged frequent protests and closed the bridge that spans the river, arguing that the plant was contaminating the water.
Uruguay insisted that strict environmental codes were in place.
The two countries settled the dispute last November by setting up a joint committee to monitor pollution levels in the river and within the mill.