Mexico arrests alleged Zetas leader over casino fire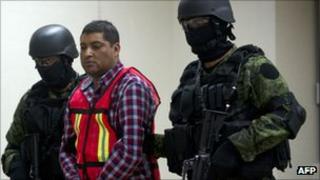 An alleged Mexican drug trafficker has been captured in connection with a deadly arson attack on a casino which killed 52 people, the army says.
Carlos Oliva Castillo, known as "The Frog", was presented to press at the defence ministry in Mexico City.
The 37-year-old is said to be the third highest-ranking figure in the powerful Zetas drug cartel.
The attack on the Casino Royale in Monterrey in August was one of the deadliest in Mexico in years.
Meanwhile fighting broke out between rival gangs at a jail near Monterrey on Thursday, leaving seven dead, officials said.
The authorities said the violence might have been in response to Mr Oliva Castillo's capture.
Makeshift knives
Mr Oliva Castillo was arrested at a safe house in Saltillo, in northern Mexico, along with his presumed girlfriend and another man, officials said.
A Defence Department spokesman, Col Ricardo Trevilla said there were "several pieces of evidence" to suggest Mr Oliva Castillo had ordered a subordinate, Francisco Medina Mejia, to carry out the arson attack.
Col Trevilla said Mr Oliva Castillo ranked third in importance to the two top Zeta leaders, Heriberto "Lazca" Lazcano and Miguel Angel Trevino.
He allegedly led the Zetas gang in the northern Gulf coast state of Tamaulipas, as well as in the northern states of Coahuila, where Saltillo is located, and Nuevo Leon, where Monterrey lies.
Officials said fighting broke out on Thursday morning between about 60 prisoners who burned mattresses and attacked each other with makeshift knives at a jail in Nuevo Leon, near Monterrey.
Jorge Domene, security spokesman for Nuevo Leon state, said four prisoners were burned to death and three others died from stab wounds.
The attack on Casino Royale in broad daylight shocked Mexico and led to questions over President Felipe Calderon's war on drugs, which he launched in 2006.
More than a dozen people were arrested in connection to the attack. Investigators believe the casino was torched because protection money had not been paid.
Monterrey and the state of Nuevo Leon have seen rising violence as the Zetas and Gulf cartels vie for control of trafficking routes to the US.