Chile celebrates San Jose mine rescue anniversary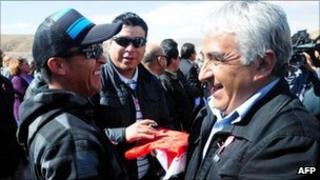 Chile is marking the first anniversary of the spectacular rescue of 33 miners, who were freed after being trapped below ground for 69 days.
Some of the miners returned to the San Jose pit, in the Atacama desert, for a thanksgiving Mass.
About a billion people around the world watched pictures of the 22-hour rescue operation, in which the men were winched one-by-one to safety.
A year on, many are still suffering from trauma, and half are unemployed.
They are also locked in a legal battle with the Chilean state for compensation.
One has returned to his work as a miner, while several of the men have become successful motivational speakers.
The country's first lady Cecilia Morel took part in thanksgiving ceremony at the San Jose mine along with government ministers and some of the miners.
At the ceremony, Manuel Gonzalez, the first rescue worker to go down into the chamber to free the miners, said everything had changed in the past year.
"But the same feeling of happiness is there, of having fulfilled the hope of the Chilean people and many around the world," he said.
At a similar ceremony in August, some of the men were pelted with fruit by protesters who accuse the 33 of exploiting their celebrity status and abandoning their fellow workers, says the BBC's Gideon Long in Copiapo, near the mine.
Ms Morel laid the first stone of memorial statue called the Monument of Hope.
According to Chilean newspaper La Tercera, she said she hoped that the monument would "rescue that hope, that unity that when we have a common cause, we can unite and achieve impossible things".
She also defended the government's record, saying that the mine rescue had spurred her husband President Sebastian Pinera's administration to improve safety laws for all workers.
Mr Pinera enjoyed a huge bounce in his popularity after the mine rescue, but recently the country has been beset by strikes and protests and his approval rating has slumped.