Colombia's President Santos hails US trade deal vote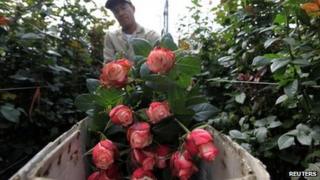 Colombian President Juan Manuel Santos has hailed a "historic day" after the US Congress passed a long-delayed free trade agreement with Colombia.
Both houses of Congress voted in quick succession to approve the deal, as well as pacts with Panama and South Korea.
President Barack Obama said the deals were "a major win for American workers and businesses".
But the accords, signed several years ago, were controversial both in the US and in the respective countries.
President Santos said the vote was hugely significant for his country.
"Today is a historic day for relations between Colombia and the United States," he said.
"The free trade agreement ends the uncertainty that has been discouraging long-term investment and it now guarantees to all investors stability in the rules of the game."
But the head of Colombian trade union federation, the CUT, said the economy was not ready to compete.
"Our country isn't developed, it does not have the expertise much less the requirements for trade at this level," Tarsicio Mora told the Associated Press news agency.
Ready to trade
The Colombian deal, highlighting concerns among some Democrats about labour conditions in Colombia, had the least support in Congress of the three accords.
"I find it deeply disturbing that the United States Congress is even considering a free trade agreement with a country that holds the world record for the assassinations of trade unionists," said Congresswoman Maxine Waters.
All three accords were signed during President George W Bush's administration.
But concerns over tariffs, overseas labour practices and the effect of increased competition on US jobs meant the deals languished for several years before being put to a vote.
The deal with South Korea was the biggest US trade pact since it signed the North American Free Trade Agreement (Nafta) with Mexico and Canada in 1994.
Panama's government said their deal was a key for their economic policies which seek to increase foreign investment.
"We Panamanians have to be ready to take advantage of the benefits of this agreement," President Ricardo Martinelli said in a statement.
The Obama administration says the deals will increase US exports by $13bn (£8bn) a year.