Chilean mines: Safety still an issue, a year on from 'Los 33'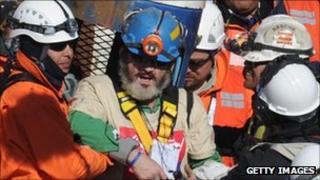 A year after Chile's 33 miners were hauled to safety in the Atacama Desert, working conditions at the thousands of mines dotted across the country appear to have improved.
The number of deaths from mining accidents in Chile has more than halved - to 12 in the first half of this year from 27 in the same period in 2010.
The government has kept its promise to increase the number of mine inspectors from 18 at the time of last year's accident to 45 now. Those officials have carried out more than 3,800 inspections this year, compared with fewer than 2,600 in the entire year 2010.
In July, the government sent a draft bill to parliament to overhaul mine safety regulation, describing it as the most important legislation in the area in 30 years. It will lead to the creation of a separate agency dedicated exclusively to mine safety.
"After what happened at the San Jose mine, mine safety became a key objective for the government," Chile's Mining Minister Hernan de Solminihac said on Wednesday. "We've more than doubled the number of inspectors, which will help us control mine safety."
But despite this progress, there is still work to be done.
A few days after last year's extraordinary rescue, Chilean President Sebastian Pinera told the BBC that his country would ratify International Labour Organisation (ILO) Convention 176 on mining safety. It has yet to do so.
Mr de Solminihac says the government has asked the ILO for more information on what ratification would mean for Chile, where mining accounts for half of all export revenue and provides thousands of jobs.
"We have to see what the implications are for everybody, not just for the big mining companies but for the smaller miners too," Mr de Solminihac told the BBC during a recent visit to London.
'No notable improvement'
ILO 176 has been in existence for more than a decade and has been adopted by 25 countries.
It upholds the rights of workers to refuse work they consider unsafe, to leave a mine they consider dangerous and to elect their own health and safety representatives. It seeks to protect the rights of workers if they complain about their working conditions.
"Chile has made some progress in revamping its antiquated mine safety laws and regulations," says Tom Grinter, spokesman for the International Federation of Chemical, Energy, Mine and General Workers' Unions (ICEM). "But it cannot claim to be a world-class mining nation until it adopts the standards contained in ILO 176."
Some union leaders in Chile complain they have seen no notable improvement in mine safety since last year's accident.
Nestor Jorquera, president of the Chilean Mining Confederation, which groups more than 60 mining unions, questions the fatality figures compiled by the state. He claims more than 50 mine workers have died in accidents in the past year, although he acknowledges that some of them been killed outside the mines themselves - while handling explosives or in road accidents on their way to work.
Deadliest for decade
And while the price of copper remains high, so will the likelihood of accidents.
Last year was the deadliest in Chile's mines for more than a decade - 45 miners were killed at work. It is no coincidence that it was also the year in which the copper price averaged a record high of more than $3.40 per pound (£2.17/lb).
When the copper price rises, an army of part-time, unsupervised miners seen to benefit from the boom by heading out into the Atacama Desert in search of mineral. They are the ones who are most at risk.
This year promises to be another record year for copper. It has averaged more than $4 per pound (£2.55/lb) during 2011 and hit an all-time high of $4.60 per pound (£2.93/lb) in February.
"It shouldn't be the case that when the price of copper is high, the number of accidents rises," Mr Jorquera said. "It should be the other way round. When the price is high, that's precisely when companies have the extra money to spend on safety."
The rescue of "Los 33" at the San Jose mine a year ago could so easily have ended in disaster, and serves as a reminder to Chileans of the danger inherent in their country's leading industry.
"Our aim is to ensure that even if our miners earn a few pesos less, they get home with both hands, both eyes and walking on their two legs," Mr Jorquera said. "We won't sacrifice security for money."