Hurricane Jova hits Mexico's Pacific coast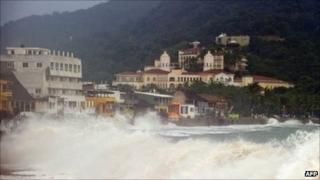 Hurricane Jova has hit Mexico's Pacific coast with strong winds and heavy rain.
Jova made landfall near Chamela in the state of Jalisco with maximum sustained winds of 160km/h (100mph), the US National Hurricane Center (NHC) said.
Shops and businesses were boarded up ahead of Jova's arrival, while in the busy port of Manzanillo people were urged to leave flood-prone areas.
Jova has weakened but forecasters warn of the danger of landslides caused by torrential downpours.
Jova, classed as a category two storm, made landfall at 23:00 local time (06:00 GMT Wednesday).
The hurricane is expected to lose force but the NHC said downpours could cause flash floods and mudslides.
Forecasters warned of coastal flooding along a 340km (210 mile) stretch between Manzanillo and Cabo Corrientes.
Ahead of the hurricane's arrival, authorities set up shelters in coastal areas but also in the mountainous inland areas given the threat of mudslides.
Among other precautions, workers filled sandbags to try to protect beach volleyball courts in Puerto Vallarta, where some events of the Pan-American Games are due to be staged later this week.