Humala sacks Peru police commanders in corruption purge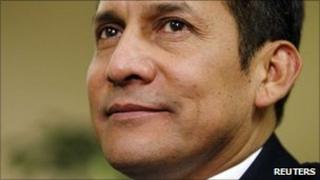 Peru's new President, Ollanta Humala, has replaced two-thirds of the country's most senior police officers, in a purge designed to root out alleged corruption.
Thirty of Peru's 45 police generals have been pushed into retirement.
They include the overall commander and the head of the anti-drugs force.
Critics have accused President Humala of acting hastily without giving officers the opportunity to defend themselves from unproven allegations.
President Humala took office in July promising tough action on corruption and drug trafficking.
Peru is one of the world's biggest cocaine producers, and some of the officers forced into retirement have been accused of taking bribes.
But correspondents say the scale of the purge has come as a surprise.
At least one general said he had been sacked even though he had not been linked to any wrongdoing.
President Humala - who is a former soldier - has also promoted dozens of officers in the armed forces.
The conservative opposition politician Lourdes Flores has warned that Mr Humala could be seeking to politicize the security forces, or do favours for his friends.
But Vice-President Omar Chehade said the changes followed a "rigorous evaluation" of the security forces.