Chile students plan new education protests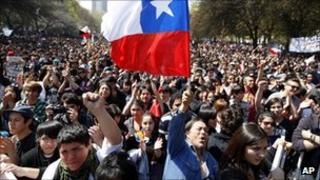 Chilean students protesting for educational reform have called a new general strike, following the breakdown of talks with the government.
They will be joined by trade unions in a two-day stoppage on 18-19 October.
School and university students, as well as teachers, have been boycotting classes and holding demonstrations for five months to demand free education.
The government says the movement has been taken over by extremists, but it hopes that dialogue can resume.
The last general strike in support of the student's demands in August led to violent clashes between protesters and police.
"We regret enormously that the student movement has been taken over by the most radical, the most intransigent, the most ideologically driven groups," government spokesman Andres Chadwick said.
Referendum
Student leader Camila Vallejo blamed the government for the collapse of talks last week.
"They did not have the political will to meet the demands of the great majority in our country," she said after a meeting of the Confech student federation in Valdivia on Saturday.
She urged students in schools and universities not to return to classes for the second term of the academic year.
Meanwhile, more than a million Chileans have voted in an unofficial referendum on the student's demands, according to the teachers union that organised the poll.
The overwhelming majority of those who took part backed the demand for free education, and an end to profit-making in the sector, the organisers said.
President Sebastian Pinera has expressed hope that student leaders will return to negotiations.
He has promised limited reforms and about $4bn (£2.6 billion) in extra funding. But he has rejected calls for full state control and free education for all.
Student leaders - many of them left-wing - want changes to the tax system to fund fundamental changes to an education system set up during the 1973-1990 military rule of Gen Augusto Pinochet.
The protest movement is the biggest Chile has seen since the return to democracy.