Chile court lifts suspension of Patagonia dam project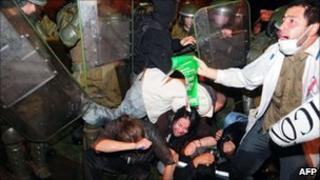 A Chilean appeals court has ruled in favour of a multi-billion-dollar dam project in Patagonia, in Chile's south.
The court lifted a suspension order on the HidroAysen project that had been issued following objections by environmentalists, who fear it will damage Patagonia's fragile ecosystem.
The government says the dams are essential to meet Chile's growing energy needs.
The project's opponents said they would take their case to the Supreme Court.
The appeals court in the southern city of Puerto Montt lifted a suspension order it had issued in June to allow time to consider objections filed by environmentalists and social activists.
Opponents had filed seven objections to the HidroAysen project, ranging from the detrimental effect they said it would have on the Laguna San Rafael National Park to the dangers it could pose to the Huemul, an endangered Andean species of the deer family.
Two judges ruled to dismiss the objections, while one ruled in favour of allowing them.
Divisive dams
The project has sparked a number of protests, some of which have seen violent clashes between demonstrators and the security forces.
The five dams would be built on two fast-flowing rivers that run into the Pacific - two on the river Baker, and three on the river Pascua.
They would drain lakes in a region that is famous for its rugged beauty - a landscape of glaciers, ice-fields, mountains and fjords.
A joint venture between a Chilean company and a Spanish-owned one, the project is expected to cost some $3bn (£1.85bn) and is designed to generate 2,750MW of power.
HidroAysen says the project "represents a cost-effective, sustainable, reliable and ecologically viable source of energy".
It says it involves flooding nearly 60 sq km (23 sq miles) of land, but will provide 4,000 jobs at its peak.